AR Smart Glasses HiAR Glasses Showcased at CES 2017
发布时间:
Via: YAHOO! Finance ( http://finance.yahoo.com/news/ar-smart-glasses-hiar-glasses-050700837.html)
LAS VEGAS, Jan. 6, 2017 /PRNewswire/ -- China's first binocular all-in-one AR smart glasses HiAR Glasses will be showcased at CES in Las Vegas from the 5th to the 8th of January. The product was displayed at last year's Smart City Expo World Congress in Barcelona in November, during which it garnered the attention of AR/VR professionals worldwide. Visitors to the booth remarked that it is an impressive AR product with a set of features that are not any less than what is available with Microsoft's HoloLens.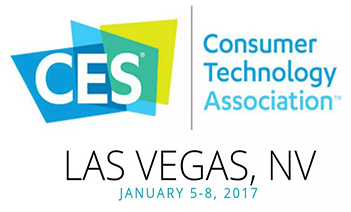 HiAR Glasses integrates the core resources of the global AR industry chain, and takes full advantage of its developer HiScene's rich experience in AR technologies. Having taken the lead in terms of appearance, performance, interaction and content, HiAR Glasses  is already  a leading AR product in China and  is expected to become so worldwide.
The world's first AR glasses based on the Qualcomm® Snapdragon™ 820 processor
HiAR Glasses comes equipped with the Qualcomm® Snapdragon™ 820 processor, one of the most advanced mobile processors currently available, as well as the Qualcomm® Adreno™ 530 GPU and new Qualcomm® Hexagon™ 680 DSP, endowing the product with powerful computing and graphics processing abilities. In addition, the  product comes with 4GB  Dual Channel LPDDR4 memory, resulting in a faster data transmission rate and a power consumption rate that is 40% less than that of DDR3.
Voice interaction with artificial intelligence + natural 3D gesture
HiAR Glasses  is the first AR glasses in China that enable  voice interaction with artificial intelligence and natural 3D gesture operations. The voice recognition feature does not need to be awakened and is always stand by. The  product  supports personalized artificial intelligence-based voice services in Mandarin Chinese, and its calling interface for voice services will be fully open sourced.
For operations with natural 3D gestures in both indoor and outdoor scenarios, and to ensure efficiency and portability, HiScene, in association with two of the world's leading developers Inuitive and Heptagon, designed a depth camera module based on its own gesture recognition technology, minimizing module profile and maximizing CPU efficiency, the quality of the depth map acquisition and the ease of use for gesture operations.
The most cost-effective optical solution designed for mass production 
HiAR Glasses, powered by an optical projection system with free-form waveguide, provides a high-definition 3D AR visual experience, while allowing for the thinnest, high-comfort lenses. The optical projection system with free-form waveguide is the best existing AR optical solution that combines thin lenses, cost performance and capability in mass production.
A highly customizable operating system for AR glasses
HiAR Glasses runs on the highly customizable Android operating system and is powered by an AR engine that integrates the company's image recognition, object recognition, simultaneous localization and mapping (SLAM) functions, among other core technologies developed in-house. In addition, the combination of a highly customized user interface (UI) and user experience (UX) helps create a more suitable operation system for AR glasses.
With the aim of improving the visual experience, the product pushes the boundaries in terms of screen designs and connects the real with the virtual world by building a space-based UI. The functionality for easy interaction goes well beyond traditional click and touch, creating an holistic interactive system that integrates the gaze, intelligent voice, natural 3D gesture and object touch features.
Extensive partnership
HiScene, the developer of HiAR Glasses, is a startup specializing in the research and development of core AR technologies and products. Since its inception in 2012, HiScene has formed partnerships with leading global companies, including Tencent, SAP, OPPO and DJI. In 2016, HiScene, which is serving over 700 million users worldwide, provided technical support for Tencent's Rio Olympics campaign and for leading Chinese e-commerce firm Suning.com's promotion campaign launched on November 11, China's biggest shopping day of the year. The company has proven its leadership in the industry by expanding its presence in the manufacturing, medical, travel, gamer and education markets.
The HiAR Glasses, developed based on HiScene's core technologies, was put into practical application within less than two months following launch. The product  wasselected by Hebei Normal University, one of China's leading institutions of higher learning, for the creation of an AR sand table that displays geographic information with real and virtual elements, in addition to supporting the equipment maintenance of Zoomlion, one of China's largest construction equipment makers.
HiAR Glasses is a noteworthy product for the global AR industry. It provides the industry with an integrated solution by combining the company's extensive experience in developing core technologies with resources across the global AR industry chain, and, by doing so, is making a significant contribution to the growth of China's AR industry.